Tundrasails hates to admit it, however the 8 inches or so of ice out there declares paddling and sailing season of 2013 over. I had a great summer on the wtaer enjoying my 1.5 meter PA sail, I upgraded from the 1.1 metre sail. I really notice tehe difference in light winds as the extra area allows me to still catch the wind and move along nicely. She can be a handful in the stronger winds , but you can really move out.
Improvements to the site (I hope).
I have been doing a little work here now that the lake is frozen and I can no long escape by paddle. Please check the Changes on the SkirtworkS page, there is more coming and will be added as it arrives.
Greenlandic Paddles are here
I have five greenlandic paddles made by Joe O'blenis paddles in stock now and you can see them just contact me and we will arrange something. They are pictured here on the page as well but much better to come and hold one for yourself.
I have switched over the the greenlandic paddle completely now liking them very much. I have four that are up for grabs. I pulled one from the box and it fit so I thought I will try this one and save the rest. I was lucky as it fits and I am now very comfortable using it. Greenland paddles are a little different but switching paddling styles was easy and really the only way to get the proper effect of the paddle. I am hooked .
Greenlandic Paddles here now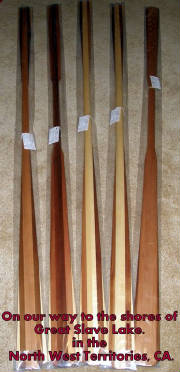 I am now using the paddle on the right as my full time paddle and I like it. Greg
Paddlers for parts "Sociable Affair."
Tundrasails is a big supporter of the Paddlers for Parts Association and joins them every year for their Sociable Affair. This year was their 8th annual affair and was fun. The turnout was smaller than hoped for however the weather conditions were far from perfect. Lots of rain, mixed with the occasional patch of brilliant weather.
The Paddlers would like to thank Jedi and his brother Dean for assisting in with the shuttle to the river. Thanks to the folks from Pido Productions and Midnight sun racing for the use of the cube van, making life as a shuttle bunny so much easier. Chris Flannagan from Harleys Hardrock Saloon and Midnight Sun racing for arranging the van at only a moments notice. The folks at Parks and Tourisum for allowing us to camp over night in the park and to Wayne and Eric for dropping off enough wood to last me all week end. The wood was wonderful considering the rain. Thanks to those that chose to take a chance and come out and paddle , without you it is not the same. See you at the river for World Rivers Day , this year Sept, 25th the last Sunday in September.
There are new photos on the way. Last summer I supplied two Wind paddle sails to a group going for a 61 day paddle and they have just notified me that they are sending me a disc load of photos. This group used two Windpaddle sails and a Pacific Action sail. They paddle and sailed from Yellowknife to the Arctic ocean finishing at Coppermine now known has Kugluktuk.
The photos have arrived and I will be adding some I may even open a album on the site. Cheers Greg
Sailing canoes and kayaks
Sailing your kayak or canoe, your wondering if this is for you? I wondered too and decided to purchase a 1.1 meter sail from Pacific Action and I have never regretted the decision . The sail is great and allows me the following options, leave the sail furled and paddle which I often do as like paddling as much as the next person. I can use the sail to take some of the load off me while I paddle, I can cover twice the distance or more in a given time or I can spend half the time on the water and more time ashore exploring. Sails added to canoes and kayaks are a great way to enhance your paddling experience or you can leave them down and paddle, always your choice. There have been some incredible journeys made over huge distances with sailing canoes and kayaks. I started off if a Prijon, Seayak under sail and now all my boats have sails. I paddle with friends that don't have sails and just don't use mine or I can go and play with the wind and return to the group later, sails open up a world of options that are well worth exploring. The realm of hands free fishing and trolling under sail is a great option a sail will provide.
One of the most important reasons that I like my sail so much is, it is a lot of fun. I live beside a float plane landing strip and one day sailed past a Twin Otter that was working his way towards the take off area. I got a huge smile from the pilot and co-pilot as I sailed by on a parallel course. Cheers, Greg