SkirtworkS goes European
We have just completed a skirt that will be heading to Germany via Florida. Rudi place an order for his SOF kayak and we were pleased to be able to assist in this. Looking forward to his feed back after he receives the skirt. Skirtworks is now offering custom decking and dry suit seal replacement. Contact me for details. Should you need to make a tracing for us just click on the link in the menu for directions, Thanks, Greg
SkirtworKs has an extensive line of custom skirts for both touring and white water boats and we are willing to meet your specific needs . Please contact Greg if you have any questions. We are always pleased to be able to meet your skirt needs just send us the make and model and we can tell you if it is a stock skirt that we make all the time or if we will require a cockpit template. Cheers, Greg
Basic Hybrid kirt with with stiched Quick grab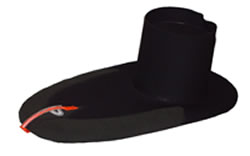 handle, a handy feature
Tunnel size fit chart
Over the next day or so I will be adding this to make your your job a bit easier. We need a size to build your tunnel to and this should be measured around your navel roughly. This fit list will contain our basic sizes of small, medium, karge, xtralarge and xx large and their lengths in both inches and metric. This way when writing things on your tracing you will be able to mark Tunnel large or whatever the size should be. Tunnel adjustment straps make the tunnel smaller and give you about 6 inches of adjustment.
Skirt FAQS
SkirtworkS) I am expecting an update fit list shortly and will post changes and additions as well as corrections if any.
SkirtworkS) Is a builder of custom skirts and works with neoprene, we do not make nylon skirts as we are no set up for this and prefer working with neoprene.
SkirtworkS) Can and does make skirts for home built skin on frame kayaks or commerial SOF boats. Contact me and we can sort out the details.
SkirtworkS) Can and does upon request and for a slight additional fee install implosion bars.
SkirtworkS) At the present time is not making cock-pit covers but is concentrating on skirts.
SkirtworkS) We are willing to ship globally and you will be charged accordingly. We have very reasonalble shipping rates compared to some.
Making ours and your life easier.) For some models we will require a cock pit tracing. Should you be wanting an implosion bar we will need a tracing with the bar location marked on the tracing. When sending your tracing please mark on it the following, make / model, front/ rear, seat set back, waist size and adjustment if requested, type of rand requested, fixed or free floating grub loop. Please also include on the tracing your shipping address. Things things will have been discussed with has when you place your order, this just ensures that we are all on the same page when the skirt is being built. Please also list the type of material your boat is made from, plastic, fiber-glass, carbon firbe. Certain rands work better with certain materails, we can help you decide.
SkirtworkS) Takes pride in their product and would like to have you as a continuing customer. The skirts are well made and of quality material. You will find that when yours arrives. There are small options that can be discussed at the time of placing an order and we can be very accommodating with the little things that make the Skirt one of a kind, yours.
Skirtworks looks forward to building your next spray skirt.
When the water hits the deck the last thing you want to worry about is your skirt.
Notice on the skirt to our left is the new quick grab loop whch is reinforced and centrally located and stiched in place, this means no more looking for the loop when your upside down and needing to bail in a hurry and prevents us from pinning the loop under the skirt when putting it around the cockpit coaming. Remember we're not supposed to do that, right.
This skirt is designed for ez-on ez-off white water enthusiast. Constructed of 3.5mm deck and tunnel, also laminated with 5.5 Aramid, creating a 9mm front gusset. This skirt also has our new designed Quick-Grab rip Cord! The new rip cord is designed for easy to locate quick release.
Item Code: 150-PF
Also available in tight fit.
Item Code: 150-TF
The Aramid tough rim skirt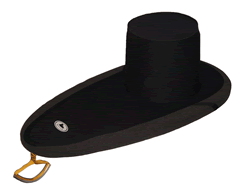 preferred fit model
.
This skirt is designed for ez-on ez-off white water enthusiast. Constructed of 5.5mm Aramid casing with 3.5mm Neoprene Deck and Tunnel.
Item Code: 200-PF