There is no doubt that I like what I sell and here are the thoughts of those that agree with me. Lets hope your here one day soon. Greg

"I enjoy weekend kayak excursions, loading up my tent & gear to explore the
smaller lake chains in the area - resulting in some portaging - but with my
new sail I now have energy to spare! Even in a strong breeze - the
control mechanism is simple to use and effective, whether going with the
wind or not. I had lots of fun playing with the sail this year, and can't
wait to try fishing/trolling with it next year."
Steve Shantz, Yellowknife NWT.

Gentlemen,
Just wanted you to know that I positively love my PA sail. I sail in
Michigan, USA on Lake Huron, one of the Great Lakes. Nothing I have seen or
tried can even come close to the simplicity, ease or quality of your
product. Your distributor, Tundra Sailors, in Yellowknife NWT Canada is one
of a kind - most helpful and keeps an interesting website.

I wish you worldwide success, and proudly display my label on the bow of my
'yak. If you sent me another one, I would put it on my car as well. I tell
everyone about you whenever I can, and believe me, I don't usually advertise
anything.

Thanks!
Jim Schadlick

Yes, I'm definitely a happy sailor and Tudrasailor customer. When I first visited the Pacific Action website I was planning to buy directly from them, and I could have done so for about the same price. But in the testimonials on their website was a quote from a customer in the northern U.S. who said he had purchased his sail from Tundrasailor and he commented on how helpful Greg Loftus was throughout the process. Since I was new to kayak sailing I knew I needed all the help I could get, and you really came through for me. I think Pacific Action makes a great product, but after-sales help and advice made the difference for me.
James Codlin, Georgia USA
James and his "Loon"T160 good to go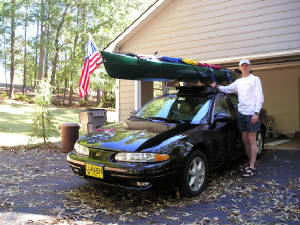 heading out for sea trials on the nearest lake
Message from Greg
Folks thanks for stopping and dropping your anchor for a while, always a pleasure to see you here. Enjoy your stay and drop back anytime.
Contact me at
cominco@theedge.ca
, should you have questions regarding the sails or the local area around Yellowknife.
I am now using Skype and if you can contact me through Skype, my name being cominco2.