September 2011
The Paddlers will be hosting a small Sociable Affair to celebrate the 8th; annual World Rivers Day. Location Yellowknife River Bridge day use area everyone welcome. Fun,food, bonfire and paddling type stuff will be taking place. Planning to start around noon until when ever.
June 2011
A busy month for the Paddlers with a number of events up our sleeves. Each year we sponsor a free swim for water safety week and we hope to do a swim to survive program as well. June will require that we begin our yearly maintenace of both the Trans Canada Trail Pavilion and the Olde stope Hill / Pilots Monument.
The Paddlers have adopted these areas through the City adopt a street program and we keep them as litter free as possible and the grass and weeds trimmed.
Of couse there is alot of paddling to be done as well during the summer months and we are kepted hopping.
My home for the second night of last years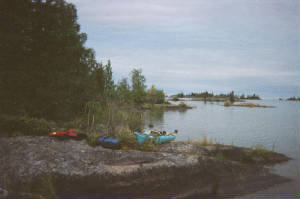 safari on the North Arm of Great Slave Lake
Naomi at the Reel Paddling Film Festival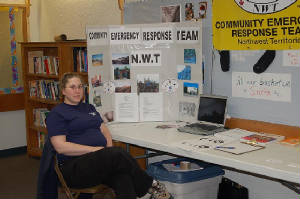 manning the CERTNWT booth.