Hard water season
Winter here is the long drawn out season for Paddlers in this neck of the woods.However we are getting closer to spring every day and the nice weather of the last couple of days helps. The boats have been stored with care since around early October and I am sure they would like to feel some water the same as we would.
It is also the time I get stuck with annual filings and other such things that no one else wants to do. This stuff does however keep our NPO status afloat and so I will plow through it. winter is good for many things traveling to paddle being one , however since I have no money that is out.. I get to catch upon this page and pln or upcoming summer activities. This year is looking good so far, we have the free Swim on the 23rd of this month, followed by the Reel Paddling Film festival in April and thast is as far as I have gotten sofar. However we are planning a Sociable Affair for July and more water related events.There will be a summer free swim during water safety week of drowning prevention week which ever we can get. hopefully we will close the season with paddle bonfire type deal on World Rivers day, the last Sunday in September every year.

President rambles
Each fall I am surprised at where the summer went. This year the weather was very nice 80 percent of the the time. We had lots of sun and hot weather and a fair share of overcast stormy weather without the rain.water levels in the rivers and lakes were the lowest I have ever seen them.
We did however manage to squeeze in a lot of paddling. We also held our annual "Sociable Affair" that was a well attended event and seemed to be enjoyed by all that attended. Managed to spread the word about Organ and tissue donation and get w few more donor cards out there.
We did the City spring Clean -up and cleaned the Old Stope hill. This we will do one more time before the snow flies.
Patrick Gauthier managed to keep the weeds down on the Trans canada trail Pavilion site brushing the area twice this summer. I also clean the litter from here has I walk by each day.
We also held our third world rivers day sociable at the Yellowknife river bridge day use area . Making bannocks in the fire eating beef stew and gallons of hot tea. We even convinced a family of 3 to take our canoe for a ride. I paddled my freefall kayak and patrick and Naomi took the canoe out for a spin. The weather was great the bonfire excellent and the day a huge success.
Paddlers Promoting Organ and Tissue Donation
The Paddlers are continuing with the Petetion for the creation of an Organ/Tissue doanation registry for the North. We will continue to supply organ donor cards as we work on the petetion and are in the process of printing 5,000 more cards.
The cards are out and available to the public and so far they are doing well. We gave out cards at the film festival and the New Years swim and the Public health Clinic called and asked for 100.
Organ and tissue donation is a big pat of the why behind our group. We consider any event where a donor card is signed or even just taken home to be thought about a success. Each potential donor can help up to 80 people through donation after death.
Mike Palmer takes the plunge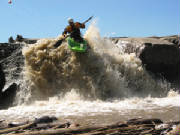 Somewhere on the Slave River
Paddlers in Spirit
These are the folks that would be there if they could and that believe that the concept is sound and worth the effort. It would be much harder to paddle, hike and bike the needed miles if these folks weren't sending their thoughts our way.
To date there are only three of us that have made 1,000 mile journeys in support of the group and I have been fortunate enough to do two. A thousand mile journey with us gets you a lifetime membership wether you like it or not. Many folks have not the time to spare for long trips but contribute finanically and with heaps of moral support, both of which go a long way.
To the Paddlers in Spirit everywhere, we're willing if you are.
Should Heather Thompson be reading this, Hello and how are you?
Your here and we hope interested
We are pleased that you have come this far and hope that your enjoying your visit. Should the concept behind the group interest you, perhaps you should consider joining and helping us.
We would like to have a large membership of folks willing to pitch in and paddle this canoe. Should you or your canoe club wish to join as a chapter, this is also possible. We would like to help you help us and so e-mail me at
cominco@thedge.ca
and we can discuss mutual benefits of membership. Thanks for stopping by. Greg
Trans Canada Trail Pavilion
The City has our sponsorship sign mounted at both of our adopted locations. The paddlers keep the pilots moniment and the trans Canada trail Pavilion litter free and looking neat. The trail pavilion gets more use when folks don't have to wade throught he hook grass and weeds to get to the Pavilion. My weed whacker makes short work of the weeds and improves the whole look of the site. Patrick is a great help with this site and a pleasure to work with. The Pilots monument is a little more work and we try and get the whole group together to clean this area. It is a beautiful spot to clean when the weathe ris right, nicest view of the lake in town. I was really surprised to find that this spot not taken, I scooped it right up.