Paddlers Bursary Recipients
We have listed below the names of our Bursary recipients and where and what they study. These are mature students and we wish them well in their chosen field. You will find pictures of these folks scattered through out the site so just keep looking.
Omar Urquahart, August / 2001, Computer Graphics, Grant Mcewan College
Brenda Hasler, June / 2002, Computer Accounting, Norquest College
Lorraine Villeneuve, 2002, Drug and Alcohol Counsellor Program, North Lake College
Lenka Cerny, August / 2003, Bachelor of Adminstration, Grande Prairie College and Athabasca University
Stephenie Bicari / 2003, Wildrose College of Natural Healing Edmonton, Alberta
Darryl Bryan, Hay River / April 2003, Northen Alberta Institute of Technology, Edmonton Alberta. Business Adminstration Program
Christine Adam / 2003, Licensed Practical Nurse, Wetaskiwin, AB.
Christopher Figliuzzi bursaries 2003 and 2004
Christopher was awarded a Paddlers bursary in May 2003 for Education
Transfer Program at Grant McEwan College. He lives in St Albert, Alberta,
and at the time of the award, was on hemodialysis while waiting for a
transplant. Chris's long term goal is to teach elementary school. He
believes that his personal experiences have made him empathic to the needs
of others and will help him become an excellent educator.

Vashti and Greg "Paddlin for Parts", at the put in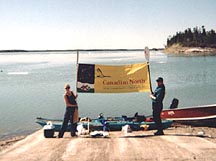 FT. Providence, NWT, 1000 miles to go



Missions Accomplished to date
Pedal for Parts 2000 Yellowknife / Edmonton Bicycle Ride
Paddle for Parts 2001 Ft. Providence NT. / Inuvik, NT.via Mackenzie River
Waterwalker Film Festival 2002
Sir John Franklin High School Organ / Tissue Donation Presentation by the Kidney Foundation 2002
Waterwalker Film Festival 2003
Yellowknife River Bridge Sociable 2004
Yellowknife Adopt a Street Program 2004 We have been selected and are now responsible for keeping the Olde Stope Hill area litter free
Splashbash 3 We managed to provide almost 20 hours of pool time for the local kayakers and canoeist and the want to bes as well , great fun 2004/5
Waterwalker 3 third annual Waterwalker and Donor Awareness events, 2005
Bursary Awarded to Loni Wells. 2004
Loni is studying at the Word of life Bible College and hopes to work full time within the Ministery upon compeletion of her studys. Loni lived with long term Renal problems and is putting her new lease on life to great use and the Paddler's wish her well.
I Bursary to Roy Dringenberg, January 2005
Roy is the first recipient of the year and is using the bursary to complete his Grade Twelve English. Roy is studying through the Alberta Long Distance learning program . Roy hopes to boost his confidence and improve his communication skills. Glad we could help Roy.
Greg awards Omar the first Paddlers Bursary Award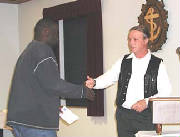 RCL Kingsway, Edmonton, AB. September 2001
Bursaries awarded to Kristna Lumbis of Reddeer Alberta
The Paddlers have issued two bursaries to Kristna who has been attending the Word of Life Bible College for the fall and spring semesters of 2006/07. We were pleased to be able to help and hope that Kristna does well . Looking forward to hearing from her and seeing how life is treating her.
Fall Semester Bursary given out September 2007
Barb Foxall of the Kidney Foundation Edmonton office has just informed me that we have issued another Bursary. The award went to a women from Edmonton who chooses to remain unknown at this time. She is attending Grant MacEwan College and we wish her wellin her chosen course of study.
The Paddlers are glad that the funds we make available are being used and we hope that those who receive the bursaries work hard and do well. Paddling the miles becomes easier when you know things are doing someone some good.



Paddler's Honours to date
Capital Health Award to Greg Loftus for "Pedal for Parts 2000"
Kidney Foundation Branch President Award Greg Loftus "Paddle for Parts 2001"
Patti Woods Kidney Foundation's "Roy Tellier Memorial Award", Promotion of Organ and Tissue Donor Card Program North of Sixty ( Thanks Patti )
Greg Loftus Dominated for "Volunter of the Year Award" 2005
Christine Bursary Recipient and her family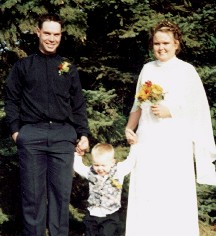 Husband Cory and the young fella, Quinton
Please meet Christine Adam and her Family. We have awarded the bursary to Christine so that she may persue her goals. She is presently retraining as a Licensed Practical Nurse, throught the Norquest distance learning programme while studing at her home in Ponoka. Christine is presently on Hemodailysis in Wetaskiwin, Albetra. As always the Paddler's wish her fair winds and smooth sailing as she follows her dream.
Hawkeye's Nitro Rocket Drag crew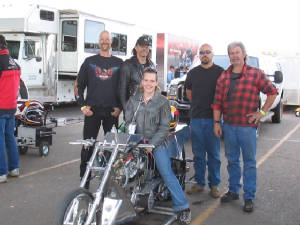 great support from this crew in Edmonton, AB.