.
Coming Up
February 23rd: Free Swim at the Ruth Inch Pool swims starts at 6:30 PM and runs Till 8:00PM.The swim is open to any and all that wish to attend and get wet. Kids 7 and under require adult supervision, local rules of our cement pond.
The concept behind this group was thought of by Greg Loftus and originally was to include 3 events over a three year period. Little did we realize the support that Yellowknifer's and others would throw behind us and now our first plan has been updated and revised (and how).
Honourary Paddler for Life Patti Woods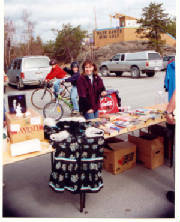 Patti has moved and we miss her at functions
Honourary Paddler's for Life
This is we hope an honour that folks will appreciate and we are pleased to offer them. Becoming and Honourary Paddler for Life involves just one minor detail, completion of a one thousand mile journey as a fund raiser on our and the Kidney Foundations behalf.
Corey Elliot was the first to receive this honour and probably dosen't even know it for his completion of Pedal for Parts 2000 our Yellowknife to Edmonton bicycle ride. The pleasure of Correy's company made the miles easier even if I spent most of my time trying to catch him.
Vashti Dunham of Bezanson, AB. was our second to receive the title for her completion of Paddle for Parts 2001 one thousand miles of the Mackenzie River Ft. Providence to Inuvik NWT. Heather Thompson was a great help in the fund raising department and did much to boost the donation we were able to present the Kidney Foundation with.Heather was named a "Paddler in Spirit" and send a certificate for her efforts on our behalf. Vashti is now a married lady living her dream with her husband and their farm, we wish them well and who knows, may paddle together again some day.